We develop smart, converting and well-designed mobile apps
UI and UX design
Attractive and user-friendly design
We work with companies to find the easiest solutions to the most difficult challenges. No matter how innovative and powerful digital solutions are on a technical level, it will be difficult to achieve success without a well thought-out, attractive and user-friendly design.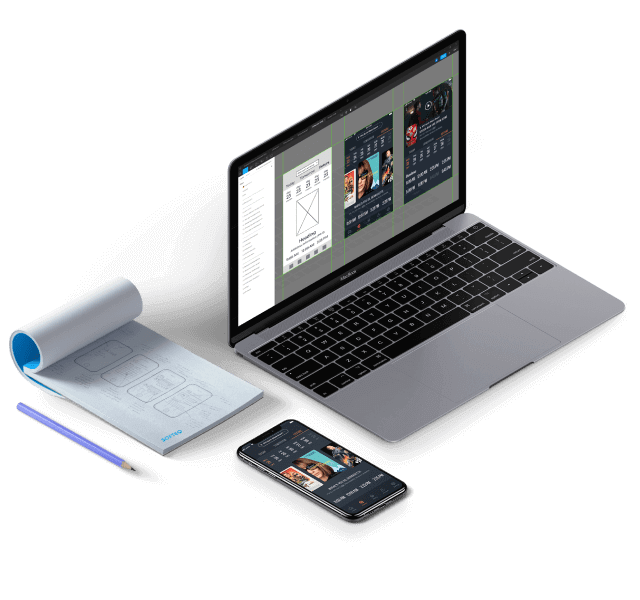 Wireframes
Wireframes can be seen as a type of drawing. Useful to help clients, programmers and designers think and communicate about the structure of the website or mobile application we produce. Doing this early in the project, before the visual design is complete and before any code is written, saves us a lot of time and work of customization later in the process.
UX design
UX stands for user experience and the field deals with everything that users encounter digitally. How a user experiences a website or mobile application is a crucial element. Is the content relevant and appealing? Is the material users are looking for easily accessible? With well-thought-out UX design, the user likes the experience and the likelihood of conversion increases.
UI design
UI design stands for user interface and can be seen as the look and feel of a website or mobile application, the way surfaces look and the way animations are structured to enhance the user experience. In other words, UI design aims to visually guide users through the user interface of a digital product.
Animations
Animations are used to improve the usability and performance of websites and mobile applications. A good design should feel seamless in the experience and animations should be used to clarify different messages. For example, we use animations to clarify how digital products work. As well as to make the user experience more fun and interesting.
You need UI/UX high-performance design services?
Contact us
Read more about our services
Read more about our services